After I had established my antennas for many of the HF bands; dipole for 80-40M and Hex beam for 20-10M, I turned my attention to 160 meters. Antennas for 160 meters on a standard half acre (~100 x 200 ft) suburban house lot pose quite a problem. On the receive side, the standard 160 meter antenna is a Beverage of some form. However, Beverage antennas are generally about 500 ft long.
On the transmit side, an inverted L or similar antennas are pretty standard. A Short vertical are possible but without a substantial tower it didn't seem to be an option for me. A random wire is also a possibility. However, all of the most common antennas require an extensive ground system for efficient radiation. A 1/4 wavelength vertical is approximately 130 ft long. As with all radial ground systems, more radials the better. Finding 130 ft for radials in a small house lot was out of the question. Of course, shorter radials could be used but in my case any reasonable radial system wasn't easy. Traditional buried or elevated radials, full size, dense, uniform length and spacing, remain the best possible option as they have a high degree of vertical vs. radial RF ground field cancellation that other solutions do not offer. This is the gold standard.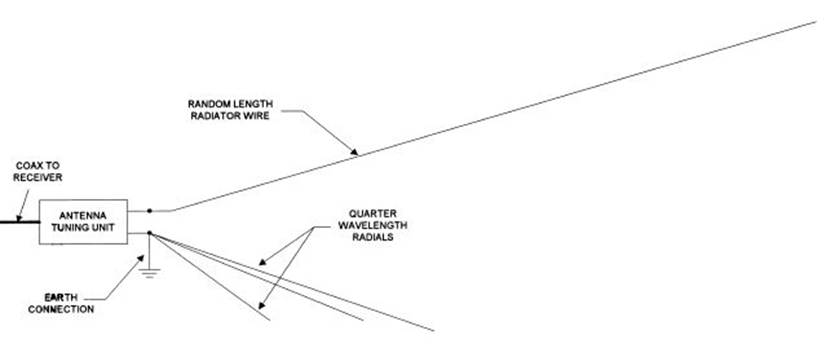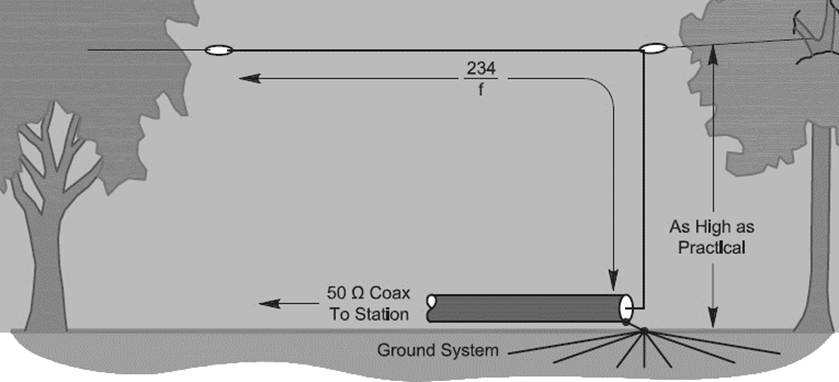 However, Guy Olinger,K2AV, has created an alternative – the folded counterpoise (FCP). An FCP is not magic. It has no gain. An FCP improves an antenna system by replacing more loss with less loss. Some have been able to erect better wires in the air because the small size of the FCP allowed better placement of the antenna. Such a multiple factor improvement project sometimes produces startling changes. Of course, the biggest improvement is that the FCP made possible the first 160 antenna on my property. Detailed construction information for an FCP and more (lots of inverted L info) is found here.
Follow these instructions EXACTLY.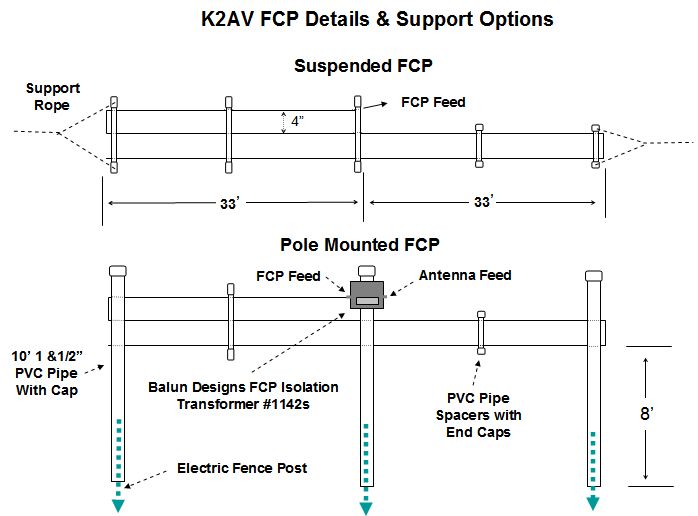 The FCP is fed with an ISOLATION TRANSFORMER….NOT a balun.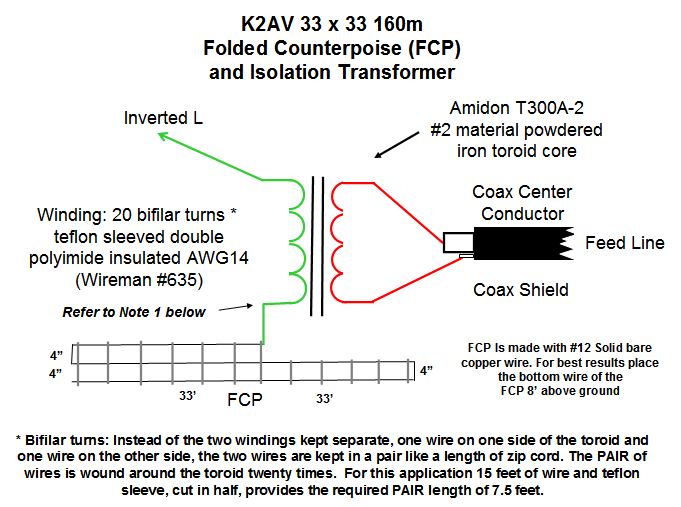 K2AV explained FCP operation in a 2012 National Contest Journal article this way "…the fields from the folded wire were
cancelling by the fold, producing sharply reduced fields at the ground only 1/8 wavelength from center. The losses in the folded radial due
to induced ground currents seemed proportional to the square of the field strength at the ground below, summed beneath all
of the wire, a smaller traverse equaling less loss. It was a short mental leap to a single 50 meter (5/16 wavelength) wire folded twice to traverse a mere 20 meter (66 feet), with the sharply reduced fields at ground now just 10 meter(1/16 wavelength) from center. When we installed this as a counterpoise at W0UCE – at 2.5 meter(8 feet) above ground – Jack started being heard well on 160 from his small lot using his smallish inverted L."
So how has it worked for me….. currently 29 countries and 45 states confirmed with 100 watts
2012 CQ WW 160 Meter SSB Contest – 1st place SC Single Op Low Power
2013 CQ WW 160 Meter SSB Contest – 2nd place SC Single Op Low Power
2014 CQ WW 160 Meter SSB Contest – 1st place SC Single Op Low Power
2015 CQ WW 160 Meter SSB Contest – 1st place SC Single Op Low Power
2016 CQ WW 160 Meter SSB Contest – 1st place SC Single Op Low Power
2016 ARRL 160 Meter CW Contest – 3rd Place SC Single Op Low Power
2017 CQ WW 160 Meter SSB Contest – 2nd place SC Single Op Low Power